Our
Unreal Engine Game Development Company
, Delivers Outstanding UE-Powered Games With Advanced Features and Toolkits. BlockchainAppsDeveloper offers the best Unreal Engine Game Development Services. Hire Our Unreal Engine Game Developers to Launch Your Own Unreal Games.
OUR UNREAL ENGINE
GAME DEVELOPMENT SERVICES
END-TO-END GAME DEVELOPMENT
We possess a team of highly skilled experts to create immersive games with unreal engine. We handle everything from ideation to launch, ensuring a seamless journey from concept to reality. Our expertise and attention to detail guarantee that your gaming vision will be brought to life in a way that exceeds your expectations
POST-RELEASE IMPROVEMENT AND SUPPORT
Our technical support extends far beyond game launch. We provide top-notch support in revenue optimization and player attraction to your platform. With content updates, bug fixes, and enhanced performance, we guarantee that your platform remains up-to-date and high-performing, delivering a cutting-edge gaming experience
GAME PROTOTYPING
Utilizing the Unreal Engine, we quickly transform your concepts into functional prototypes. Our team converts your ideas by crafting playable prototypes with fundamental mechanics. This enables you to assess and validate the feasibility of your concept before executing a full-fledged game development process.
VR & MR SOLUTIONS
Our team of unreal game developers helps you experience immersive XR experiences by developing games and experiences integrating Virtual Reality (VR) and Mixed Reality (MR). From interactive VR simulations to seamless MR integration, we bring your visions to life in the most immersive and engaging manner.
FILM AND TV PRODUCTION
Improve the quality of your cinematic creations and television productions with our exceptional game development studio. We offer top-notch pre-visualization and virtual set creation services that will enable you to experiment with various visual elements and deliver immersive experiences to your viewers.
SIMULATIONS
We are specialized in creating customized simulations for various use cases using the latest Unreal Engine technology. We offer a range of services, including architectural visualizations, automotive simulations, and training solutions to achieve their objectives and succeed in their respective industries.
ADVANTAGES OF UNREAL ENGINE GAME DEVELOPMENT
QUALITY VISUALS
Unreal is a powerful game engine with advanced graphical capabilities that enable developers and Unreal game development service providers to create games with high-fidelity realistic graphics. Also, we incorporate new features that push the limits of graphics with each subsequent version, such as the recent Lumen and Nanite
DEVELOPER-FRIENDLY FEATURES
Unreal Engine is one of the most popular game engines due to its developer-friendly features. We leverage Unreal for the gaming projects, due to its credibility in the industry.
SUPPORT FOR NUMEROUS PROJECTS
The Unreal game engine is versatile, supporting multiple platforms and project scopes. This allows for a diverse range of projects, from simple 2D games to complex XR applications, that can be executed by top Unreal engine game development companies.
EASY PROTOTYPING
Unreal is ideal for quickly creating game prototypes with its real-time rendering and Blueprints feature. It's also beneficial for game development companies to test ideas before investing significant time, money, and effort into projects.
UNREAL ENGINE 4 AND 5 DEVELOPMENT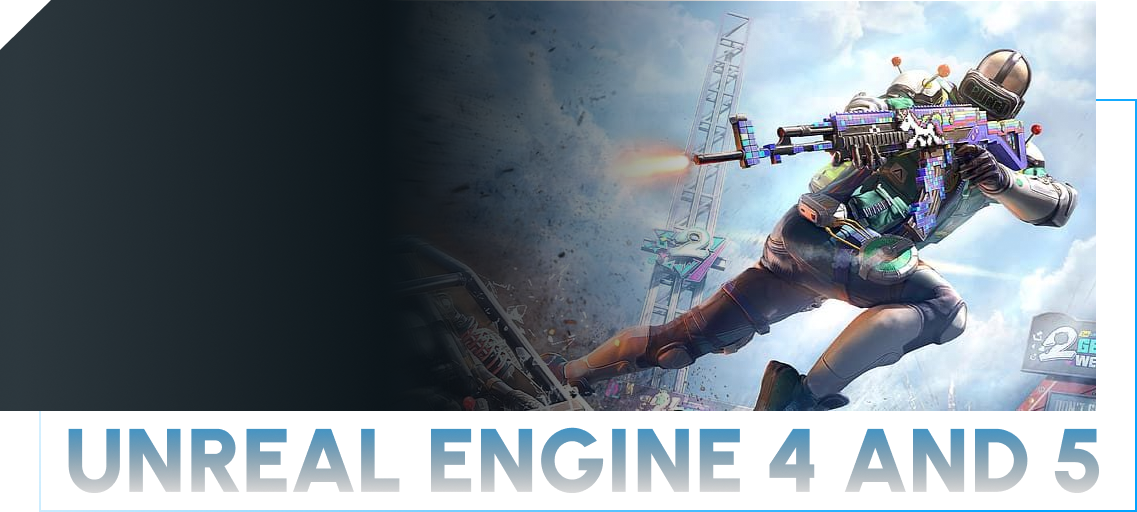 BlockchainAppsDeveloper, a leading innovator in unreal game development, specializes in harnessing the potential of both Unreal Engine 4 and the revolutionary Unreal Engine 5. Our adept team leverages the robust capabilities of Unreal Engine 4 to create immersive games with stunning visuals and engaging mechanics, while also embracing the cutting-edge features of Unreal Engine 5, such as Nanite and Lumen, to craft hyper-realistic experiences that push the boundaries of realism and interactivity. With our expertise, we transform ingenious concepts into captivating realities, ensuring our clients remain at the forefront of the ever-evolving landscape of interactive entertainment.
OUR UNREAL GAME DEVELOPMENT PROCESS
01
REQUIREMENT GATHERING
As a renowned provider of Unreal game development services, we delve into your project needs extensively. Through effective communication and detailed documentation, we ensure alignment in project direction from concept creation to completion
03
ART AND DESIGN PRODUCTION
In this phase, our artists and designers bring the game to life visually. From character design to environments, we meticulously craft assets that align with your specific requirements, maintaining a balance between aesthetics and functionality
05
LIVE OPERATIONS
Incorporating player behavior insights, our experts optimize in-game content and features to maximize engagement and player retention. This involves data analysis across diverse metrics and KPIs to drive informed decision-making
02
RESEARCH AND GAME DESIGN
We initiate user research and analyze similar games that enable us to conceptualize a unique and engaging experience. Our game designers outline core mechanics, loops, metrics, and more, creating a functional design that serves as a foundation for development
04
GAME DEVELOPMENT
Our developers utilize cutting-edge tools to transform the design into a playable reality. We implement mechanics, features, and systems, ensuring smooth gameplay and an immersive user experience. Also, we conduct continuous testing to eliminate bugs
06
RELEASE AND MAINTENANCE
Our team completes the unreal game process and assists in launching the game on all the relevant platforms. Following the launch, our commitment continues through comprehensive support and maintenance, refining and enhancing the game's performance and experience.
WHY CHOOSE BLOCKCHAINAPPSDEVELOPER FOR UNREAL GAME DEVELOPMENT
EFFICIENT GAME DEVELOPMENT WITH UNREAL ENGINE
Our ardent unreal game developers have expertise developing next-gen unreal games. They specialize in various programming patterns, code architectures, data structures, and optimization techniques. We provide high-quality gaming experiences that are both engaging and seamless
CREATION OF METAHUMANS
We create tailored 3D human characters utilizing the innovative MetaHumans feature. Our team of skilled developers craft each character ensuring that they possess intricate details, subtle nuances, and a wide range of emotive expressions than those available from third-party sources.
EXPERTS AT BUILDING IMMERSIVE WORLDS
As a pro player in Unreal Game Engine development, we specialize in creating intricate game worlds using the World Partition System. Our highly skilled developers optimize load times by configuring streaming volumes to render level sections in response to in-game movement.
HIGH-FIDELITY GAME VISUALS
Our passionate developers have employed the cutting-edge capabilities of Unreal Engine 5, specifically the game engine's Nanite and Lumen features. We carefully set up asset LOD settings and utilize realistic lighting and shadows, to craft genuinely immersive experiences.
EXPERTISE IN NEXT-GEN CONSOLES
We are experts in using UE5's latest features to create immersive gaming experiences for next-gen consoles like PS5 and Xbox Series S/X. Our team uses cutting-edge hardware to incorporate ray tracing, physical-based rendering, and HDR for next-level gaming experience.
PROVEN GAMING INDUSTRY TRACK RECORD
Our company is highly regarded in the game development industry, with a focus on creating Unreal games. Our games have acquired 100+ million downloads, with several featured in Top Lists on major game distribution platforms like AppStore and PlayStore.